Welcome to Our Practice
At Merker McAllister Dental, we believe that a dentist and patient become a team for treating an individual's dental needs. Our dentists spend most of their time listening to understand your concerns and responding with the best treatment options for you. Our experienced staff offer a wide variety of general and cosmetic dentistry procedures to ensure that the right treatment is always available to you. With the help of our professional staff, they also follow up to make sure that general pain is relieved, problems are resolved and your dental health improves.
We also want our patients to be informed about dental problems and treatments, because informed patients make better decisions about their health and well being. That is why we've included an extensive section on this web site covering the full array of topics associated with dentistry and dental diagnoses and treatments. We encourage you to look through these pages whenever you have an interest or concern about your dental needs and care.
We also know that convenience in the Zanesville area is important to your selection of a dentist. In these web pages you'll find information about Merker McAllister Dental Office, including our Zanesville location, maps, directions, hours, insurance policies and appointment scheduling. Please feel free to contact us with any questions you have or to request an appointment. We hope you'll find our practice offers the accessibility and personal commitment you look for from a dentist.
---
Practice Overview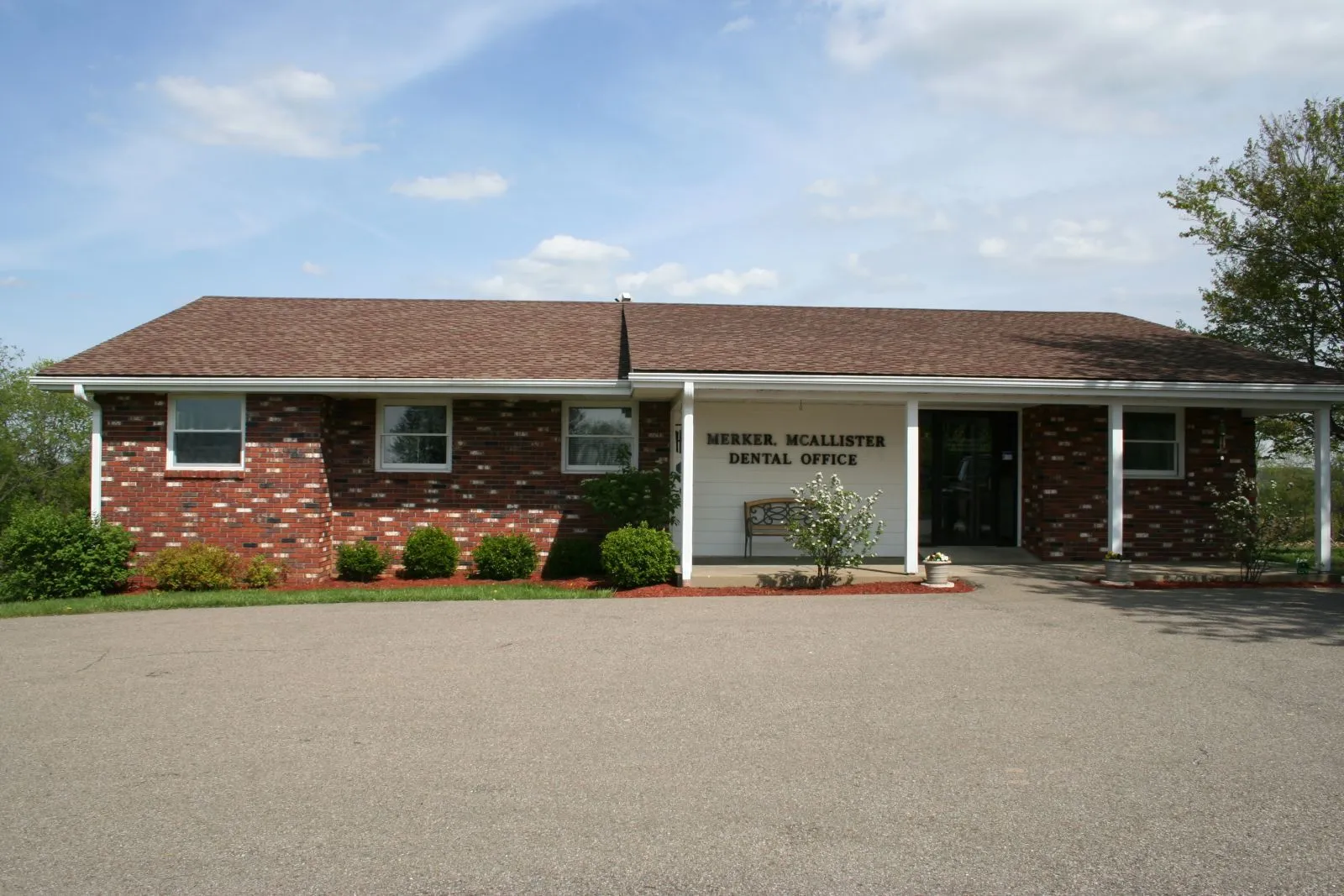 Welcome to the Merker McAllister Dental Office Web site. We are honored to have the opportunity to share a bit of our history, a history based on the tradition of a family profession centered on the welfare of our patients. Dr. Donald Merker began his dental career in Zanesville in 1958. His passion for the profession and the patients stimulated three of his four children, and grandson to follow the same career path. His oldest son, Dr. Dave Merker is a retired dentist. His youngest son, Dr. Dan Merker took ownership of the practice in 1993. His youngest daughter, Dr. Holly McAllister, joined the tradition in 1998, followed lastly by grandson Dr. Brian in 2015. All generations have been educated in Ohio at The Ohio State University College of Dentistry. Sadly Dr. Don passed away in 2007 followed by Dr. Holly in 2020, but Dr. Dan and Dr. Brian are honored to enjoy their profession and their patients in the atmosphere established years ago. In 1966 Dr. Don constructed our current building, which overlooks the panoramic landscape, that only Muskingum county has to offer. In 2005 the building underwent a major face-lift to accommodate the needs of a modern day practice. We are proud to offer five operatories, and adequate space to make your visit personal and relaxing. We look forward to offering you a professional excellence and personal touch that makes the Merker McAllister Dental Office unique.